At a time when health and safety are of utmost importance, refining our lifestyle — particularly our diet — should be a priority. This doesn't have to be a hassle as you can always start small. For one, you can cut back on sugar, meat, and fatty foods by switching to a plant-based diet.
Plant-based or plant-forward eating is basically including more foods from plant sources — such as fruits, veggies, seeds, beans, and whole grains — in your meals. According to experts, this kind of meal plan maximizes the consumption of these nutrient-dense foods while minimizing oily and animal-based foods.
It also doesn't mean you have to ditch dairy, meat, poultry, or fish altogether. A nutrition adviser says it's okay to have small amounts of these types of food as long as you fill up your plate with plant-based foods. The more plant-based dishes you eat, the better for your body.
HOW DO YOU BENEFIT FROM A PLANT-BASED DIET?
Before trying a plant-based diet, keep in mind that the ultimate goal is to improve your health and well-being. While some do this for other reasons, know that the other physical benefits are only secondary (a bonus even!), so manage your expectations as well.

According to research, people who are into a plant-based diet have lower rates of heart disease, high blood pressure, diabetes, and obesity. In contrast to eating fast-food and other unhealthy snacks, opting for plant-based dishes helps burn more calories after meals because food isn't stored in your body as fat.
Several studies have also shown that a low red-meat intake has been associated with longevity and that eating whole, minimally processed plant foods helps reduce the risk of certain cancers and depression. In older adults, there's also a decreased risk of frailty, along with better mental and physical function.
HOW TO TRY A PLANT-BASED DIET AT HOME?
After learning the basics and the many benefits of a plant-based diet, you're probably wondering how you can try this at home. It's even simpler than you think. Try cooking your meals using a plant-based, meat-free alternative.
short
Veega is San Miguel Foods's first-ever meat-free, vegetarian line. Veega products are made from locally produced, plant-based protein ingredients. The product range includes meat-free Nuggets (P115 SRP), Balls (P99 SRP), Sausage (P120 SRP), Giniling (P99 SRP), and Burger Patty (P99 SRP). The Burger Patty comes in 160-gram packs, while the rest of the variants come in 200-gram packs.embed
What you'll love about Veega is it's not only affordable, it also has a delicious, meaty taste and texture! Imagine munching on your favorite ulam and merienda minus the guilt — sweet-and-sour meatballs that are firm yet tender, ginisang giniling that is meaty and malasa, and hamburger sandwiches that are juicy and malinamnam!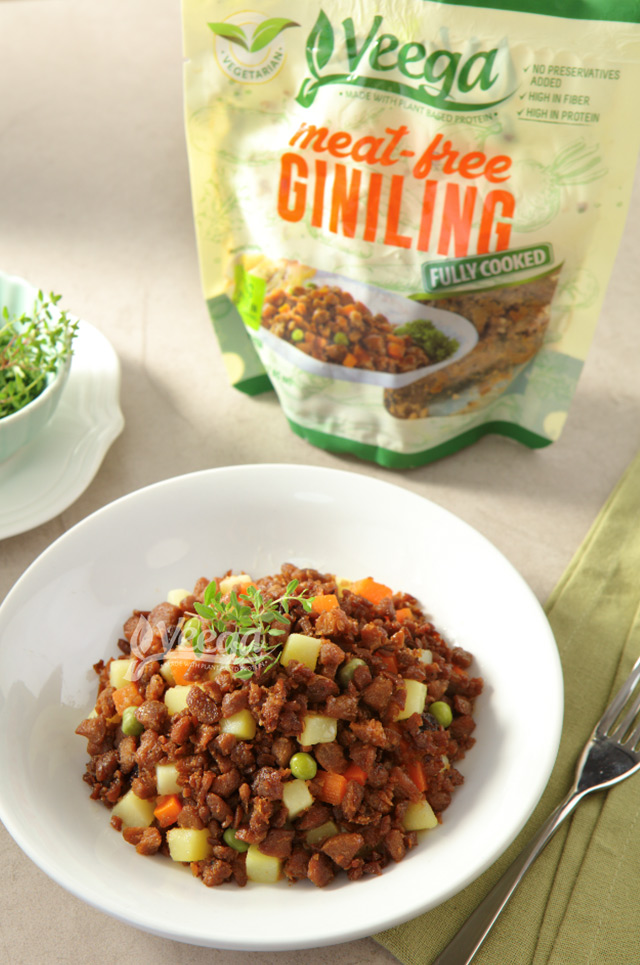 You'll also appreciate how Veega products are fully cooked and ready to eat, just fry it and you're good to go. The best part: Veega is for everyone — from vegetarians and flexitarians to anyone who just wants to eat healthier without depriving themselves of tasty ulam!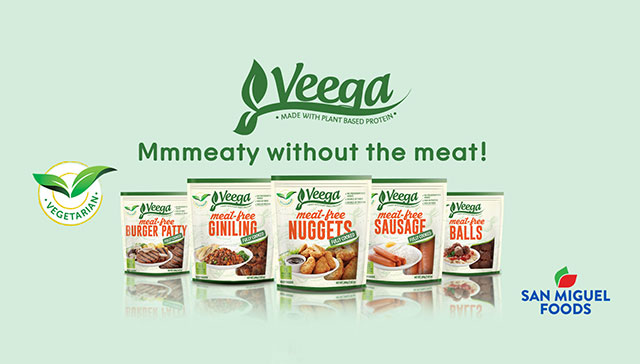 Veega products are available in selected supermarkets nationwide. You can also order online via The Mall, Shopee, and Lazada. For more information, follow Veega Meat-Free on Facebook.
Follow VEEGA
Website
https://www.facebook.com/VeegaMeatFree
Read the story? Tell us what you think!
How and where can I get this?