In just a few days, the newest Mister and Miss Chinatown 2018 winners will be named.
Mister and Miss Chinatown 2017 Jacob Muñez and Joy Wu will pass on their titles to two lucky winners among 14 hopefuls on September 2, at the SM Mall of Asia Arena in Pasay City.
The pageant, spearheaded by Miss Chinatown Foundation chairman Wilson Agbayani and Chinoy TV CEO and president Alvin Kingson Tan, aims to promote Filipino-Chinese relations amidst the growing tension at the West Philippine Sea.
PEP.ph (Philippine Entertainment Portal) and other members of the press learned more about the candidates during the official press presentation last August 8, at Crowne Plaza Manila Galleria in Quezon City.
All the candidates answered tough questions from the press and two of the standouts were Rachel Rialubin Tan and Lawrence Chua. Both were voted Darlings of the Press for their impressive answers and how they presented themselves.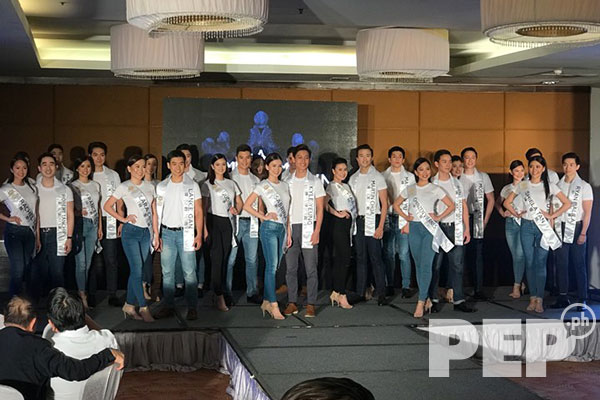 DARLINGS OF THE PRESS
In an interview after the program, Rachel recounted her answer to one of the most challenging questions during the question and answer segment of the contest: What is the difference between a millennial and modern Chinoy?
Rachel's answer was: "For modern Chinoys, we want to go out and do other things that we don't normally do.
"But at the same time, we have to remember that we're Filipino-Chinese. So we have to be responsible in continuing our legacy."
Rachel said her travels have provided her an opportunity to promote her Filipino-Chinese identity.
She told PEP.ph and other members of the press, "I think it's because of my international exposure... I moved into an international school and after that I went abroad.
"It's that international exposure but at the same time maintaining my identity as a Filipino-Chinese."
She hopes to help improve the country's transportation system.
For his part, Lawrence said being true to himself will help him win the pageant.
"I think my natural appeal to people na I'm not faking myself at all.
"What I show to everyone, to the mass, it's who I am.
"That's the most important thing... to show who you are."
Aside from promoting the Filipino-Chinese culture, Lawrence advocates martial arts as a form of self-defense.
"Ako, advocacy ko, mahilig kasi ako sa martial arts... so I'm pushing for self-defense.
"Lalo na, we live in an age na medyo delikado yung mundo, so I want every one to learn this stuff."
NATURALLY FRUGAL
The candidates also voiced out their opinions on breaking out from how some people outside the Filipino-Chinese community see them.
One of the candidates, Jann Caitlin Jao, recalled a harrowing encounter owing to her ethnicity, an incident when she and her dad got involved in a car accident.
"The first thing the guy na nakabangga told us was, 'Ganyan kasi kayong mga Chinese...' Parang, 'You're always mayabang or so high on your horses... You look down on Filipinos.'
"It's not true, actually. Ako, I personally have so many friends who aren't Chinoy, but we get along really well, my whole family also."
She added, "Yung car accident na yun, sinabi na, 'Porket mayaman kayo... Ganyan-ganyan...'
"Actually, my family, we're just simple, we don't travel so often 'cause my dad really values saving.
"And saving for the future and for us, sa kids niya. That's actually one of the values we learned from him.
"Siguro it's not being about money-centric, but being prepared for whatever happens in the future."
Jann said Filipino-Chinese are "kuripot" in the sense that they are frugal to secure their future.
The 24-year-old aspiring beauty queen explained, "Matipid pero hindi naman sa yung nga kuripot.
"I think Chinoys are also very generous. Hindi siya puro about saving.
"It's also about being able to share those blessings to other people, and make sure that the success we have is also shared to other people."
What can we learn from Filipino-Chinese about handling money?
She answered, "You can still spend on yourself, but at the same time save for the future.
Jann added, "Siguro, if you have the money, invest it. Just grow that money.
"Guilty din ako minsan dito, like pagkakuha mo ng sweldo mo, gastos agad.
"You go shopping, 'Gusto ko 'to, gusto ko iyan...' Little do you know biglang wala na siya."
The other male candidates vying for Mr. Chinatown 2018 are Robert Tanchip, Ryan Aaron Balila, Lance Oliver Gan, Renz Wycliff Manabat, Kyle Yeung, Moises Cleon Limyuen, Brian Gocheco, Martin Leonard Chua, Jason Dy Tan, Marc Ferdinand Gan, Matthan Michael Yu, Joel Chang, and Ian Tan.
Completing the candidates for Miss Chinatown 2018 are Shiela Mae Tan, Lara Christle Ching, Chinzen Viernes, Sabrina Ng, Jann Caitlin Jao, Frances Que, Marie Que, Judie Chang, Carly Chua, Patricia Ann Tan, Danica Jade Yao, Mikel Villamora, and Chrizelle Ann So.