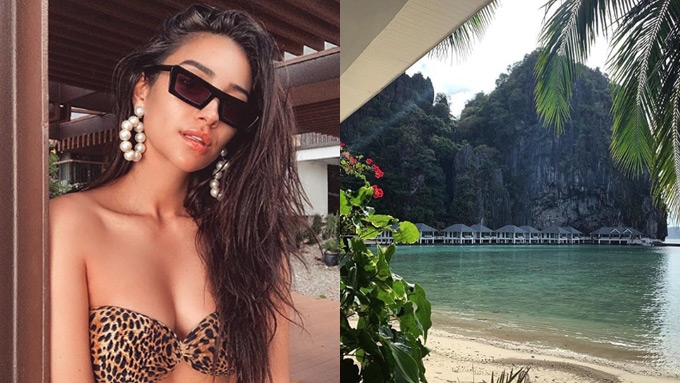 Yes! We're on our way to the beach!
You're finally giving yourself that well-deserved vacation.
While this is a key time to take a moment and live it, this is also the time to update your social media feed with stellar photos of your escapade.
SUMMER IS THE HOTTEST OF THE FOUR TEMPERATE SEASONS, FALLING AFTER SPRING AND BEFORE AUTUMN. AT THE SUMMER SOLSTICE, THE DAYS ARE LONGEST AND THE NIGHTS ARE SHORTEST, WITH DAY LENGTH DECREASING AS THE SEASON PROGRESSES AFTER THE SOLSTICE.

- Mirriam Webster
Take cue from your favorite summer idols' Instagram to compose your own double-tap worthy photos:
Give them a sneak peek of what's to come.

Establish where you are and reveal the kind of vacation you'll be spending for the next set of days.
If there are too many people swimming in the beach, strike a pose near boats and palm trees.
With summer as the official beach season, it's expected to have a crowd.
But don't let them stop you from taking great photos of the beach.
Choose a spot that continues to add character your chosen beach destination.
Or just work it with your favorite bikini and smize!
It is expected that at some point in the trip, you'll give taking that bikini OOTD shot.
Make it count!
Skip the makeup and let your sun-kissed skin show.
Embrace every inch of that "beach look."
Conscious of your puson and cleavage? Try doing the forever flattering 'dapa' pose.
Time to update your profile pic!
When the sun's natural light and picturesque background, who could resist snapping a profile shot?
And a pic with the people you love the most—your BFFs!
It is always important to document your trips with your barkada.
Capture the water adventures!

If you are one of the #blessed ones to own a drone, take a bird's eye view of the beach.
Let the people know what they are missing out on.
And cap it all off with a classic sunset-by-the-beach post
Read the full article on FemaleNetwork.com
This story originally appeared on FEMALENETWORK.COM.
* Minor edits have been made by the PEP.ph editors.