It's been said before, celebrities are just like the rest of us.
While they enjoy fame and fortune, they also have their share of simple joys.
Case in point: Aga Muhlach and his love for ice cream.
Early this week, the First Love lead actor posted on his Facebook account, "What's on my mind?
"ICE CREAM!!!!!!!! With NUTS!!!!!!!!"
But unlike the rest of us, celebrities sometimes get what they wish for even just by posting a simple Facebook status.
Replying to the post, one of Aga's Facebook friends, tagged Rachel Alejandro and suggested The Sexy Chef's low-carb keto-friendly ice cream.
The Sexy Chef is Rachel's diet plan services business with sister Barni.
Girlie Rodis, Rachel's talent manager, said, "Pls send Aga some ice cream. Charge it to me."
Rachel then replied, "Sure thing! Will tell Ann tom to send Aga some on us."
And as easy as that, Aga got his ice cream with nuts!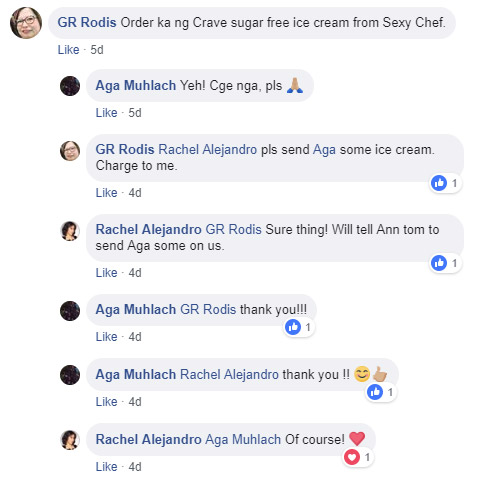 Later on, Martin Nievera commented that he would like some ice cream, too.
He wrote, "Yum I want."
Moments later, Rachel ordered another tub to be sent out for him, too.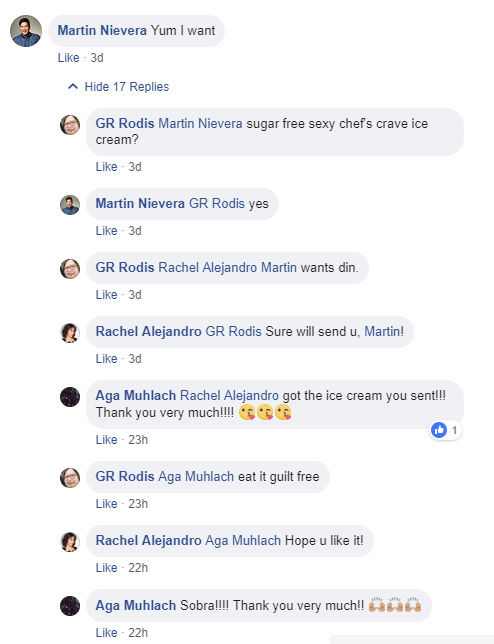 Lea Salonga then joined the conversation, asking, "Did someone say guilt free ice cream?"
Rachel's talent manager answered, "Sugar free—want some too?"
The international Broadway star said, "I won't say no to ice cream!"
And we wouldn't either.
Rachel replied, "Sure, I will send u! Just need to get your address again. [heart emoji]"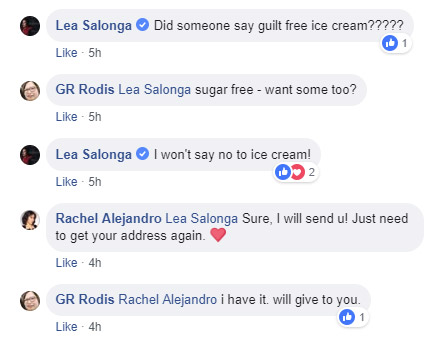 Celebrities are just like the rest of us, but not all of us have friends who send out ice cream for free on Facebook!
Happy weekend, PEPsters!