Paolo Ballesteros and Irma Adlawan emerged as the Best Actor and Best Actress in the 2016 Metro Manila Film Festival.

Irma is the lead actress of Oro while Paolo won for his portrayal of a transgender woman in the MMFF 2016 entry Die Beautiful.

Paolo was unable to attend the awarding ceremony since he was sick, which us why director Jun Lana accepted the award on his behalf. In her speech, Irma thanked the MMFF Execom for implementing changes this year: "Dahil po sa tapang niyo, nagkaroon ng pagbabago...ipagpatuloy natin ang pagbabago!"

The awarding ceremony of the 42nd edition of the MMFF was held earlier tonight, December 29, at the KIA Theater.

Christian Bables shed tears when he received the Best Supporting Actor award during the Gabi Ng Parangal. He played the transgender Barbs in the MMFF 2016 entry Die Beautiful.

He tearfully said, "Una sa lahat, hindi po ako sanay sa ganito kasi bago lang po ako. Akala ko end na ng passion ko, end na ng journey ko."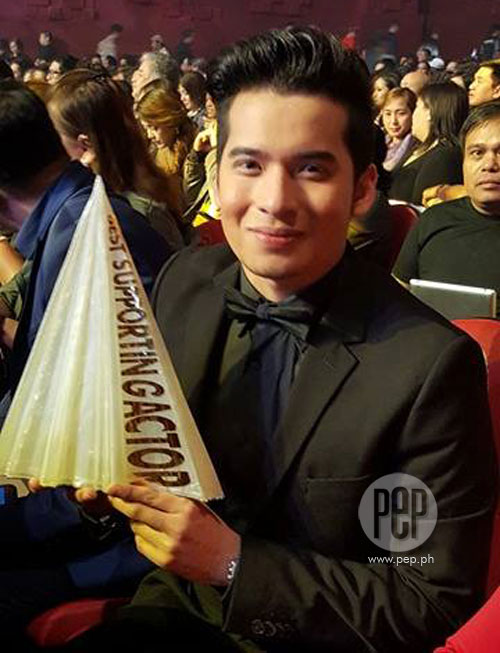 The Best Supporting Actress award went to Phoebe Walker who played a mysterious nun in Seklusyon.

Therese Malvar, who served as the jury chair for the Kids\' Choice Awards, said in her speech that night: "Huwag mo kami ismolin, huwag mo kaming maliitin...Meron kaming idea kung anong maganda para sa mga bata."

The other jury members were Bien Miguel Lumbera, Kiah Leslie Dunne, Sean Paul Earnest Fabregas & Joshiann Audrielle Salazar.

In this year\'s edition, the Magic 8 of MMFF 2016 were: Die Beautiful starring Paolo Ballesteros; Kabisera starring Nora Aunor; Saving Sally starring Rhian Ramos and Enzo Marcos; Seklusyon starring Rhed Bustamante, Ronnie Alonte, and Dominique Roque; Sunday Beauty Queen starring OFWs in Hong Kong; Vince & Kath & James starring Julia Barretto, Joshua Garcia and Ronnie Alonte; Ang Babae sa Septic Tank 2: Forever is Not Enough starring Eugene Domingo; and Oro starring Joem Bascon.

The short films included in MMFF 2016 were Birds, EJK, Manila Scream, Mga Bitoon sa Siyudad, Mitatang, Momo, Passage of Life, and Sitsiritsit.


Here is the list of winners of MMFF 2016:

Best Picture: Sunday Beauty Queen
Best Actor: Paolo Ballesteros, Die Beautiful
Best Actress: Irma Adlawan, Oro
Special Jury Prize: Rhed Bustamante, Seklusyon
Best Ensemble Cast: Oro
Best Supporting Actor: Christian Bables, Die Beautiful
Best Supporting Actress: Phoebe Walker, Seklusyon
Best Director: Erik Matti
Best Cinematography: Seklusyon
Best Screenplay: Seklusyon
Best Musical Score: Saving Sally
Best Sound Design: Seklusyon
Best Original Theme Song: Seklusyon
Children\'s Choice Award: Saving Sally, Sunday Beauty Queen, Vince & Kath & James
MMFF My Most Favorite Movie (Audience Choice Award): Die Beautiful
Best Production Design: Seklusyon
Best Editing: Sunday Beauty Queen

Gatpuno Antonio Villegas Cultural Award: Sunday Beauty Queen

Male Celebrity of the Night: Ronnie Alonte
Female Celebrity of the Night: Rhian Ramos

HOOQ Short Film Special Jury Prize: Manila Scream
Best Short Film Screenplay Award: Mitatang
Best Work for Children: Passage of Life
Best Short Film Director: Jarell Serencio
MMFF Best Short Film: EJK by Bor Ocampo